Spirit Night at Smithville
Date/Time
Date(s) - 11/09/2019
8:00 pm - 11:30 pm
Location
Smithville Mansion
Categories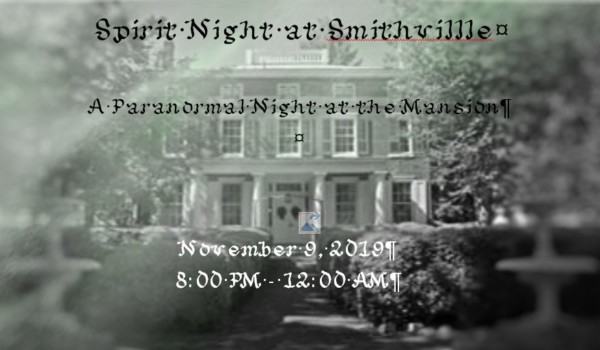 For the first time in several years, Smithville Mansion will be open for an exclusive paranormal investigation!
The Friends of the Mansion are hosting Jersey Paranormal Investigations (JPI) for a night of paranormal investigation at the historic Smithville Mansion in Eastampton, NJ. Investigate the Mansion, School House, Annex, and grounds (weather permitting) during this exclusive investigation. Ages 21+ only (no alcohol permitted) and spaces are limited to 20 attendees. Hours 8:00 PM – 12:00 AM
RESERVATIONS ARE REQUIRED.
Tickets will be $50.and can be purchase at JPI's Facebook page .https://www.facebook.com/jerseyparanormal/?eid=ARDiWuXJZneJ9QQPe7_3a0guHoAwT3fognhO0JQlFaQvQMCYz39aYnbEtdojlw0WjHdbGL2Iay_e6qsW
Tickets are non-refundable unless JPI cancels and does not reschedule this event!
For more information telephone (609) 678-8024.