Since the humble beginnings prior to 1676 as the town of Alumhatta, a Delaware Indian settlement, to the purchase of the village known as Shreveville by Hezekiah B. Smith in 1865, Smithville has undergone many changes. The property was first owned in 1676 by Henry Stacy  from his purchase of a part of a share of Edward Byllinge's proprietorship of West Jersey.  This was a 500 acre tract of land with creek frontage.  In 1686, Henry Stacy's widow Mary sold the 500 acre tract of land to Sarah Parker.   After Sarah Parker died, the land was owned by several different owners. It was known as Parker's Mills from about 1780 to 1830, Shreveville from 1831 to 1865 and finally Smithville from 1865 to present day.  Each owner made his own changes and additions, but the common denominator was the available water power at the site, the "Rancocas Creek".
In 1831 Samuel and Jonathan Shreve purchased the property for the purpose of building a calico printing factory.  At first the business was very successful.  They built the Mansion in 1840 in the Greek Revival style of the time and had a thriving factory and village.  When the government lifted the import tariffs on textiles, the Shreve brothers could not maintain their business and subsequently went bankrupt.  After their deaths in 1856 and 1857, Shreveville was purchased in 1858 from the Sheriff by their brother Benjamin Shreve, who 7 years later was able to sell the property to Hezekiah B. Smith.
Hezekiah B. Smith, an inventor-industrialist from Lowell, Massachusetts, with his wife Agnes M. Gilkerson Smith came to New Jersey in 1865, purchased the village of Shreveville for $20,000 and renamed it Smithville.  The property offered all that Hezekiah B. Smith needed to expand his woodworking machine company.   Within five years after H.B. had purchased Smithville, he had rebuilt the shops and establish a foundry for the production of  woodworking machinery. Depending on business conditions 125 to 275 men were employed. Smithville developed into a model industrial town in the 1870's with many opportunities for the workers and their families to improve themselves. The "New Jersey Mechanic" was first printed in Smithville in 1870.  It was an eight page "weekly journal devoted to working men's interest and mechanics' arts".  Agnes M. Smith was editor for the weekly journal.  The descendants of Hezekiah Smith continued to live in the mansion until 1962, when it was purchased by Louis and Grace Thomas.  In 1975 the Burlington County Board of Chosen Freeholders purchased the mansion and property.  Smithville is listed on the New Jersey and National Registers of Historic Places.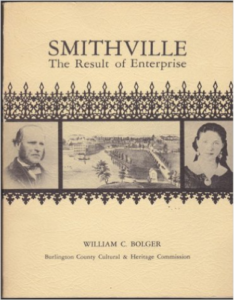 The book "SMITHVILLE The Result of Enterprise" is available in our gift shop.